For many of us, the bathroom or powder room is where we begin our days. Spending your mornings in a peaceful and calming space gets every day started on the right foot. Relaxing paint colors that complement your personal style preferences and create a clean, calming atmosphere will enhance the results of any bathroom painting project. Choosing the best bathroom paint colors for your space can have a powerful effect on its look and overall feel. In this post, we identify some of the most popular bathroom paint colors we've seen homeowners select recently to achieve great results. 
White or Off-White
White paint for bathrooms is a classic design staple for a reason. White walls in your bathroom will make the space feel fresh and clean, and it's the best paint color for small bathrooms to help them feel larger and more open. Matching white bathroom paint across walls and ceilings creates a seamless transition and cohesive appearance.
Choose an off-white, cream, or parchment shade for a slightly warmer look. White and off-white bathroom paints lend themselves well to all decor and design styles. Plants and greenery look especially bright against a white backdrop. Homeowners should note that some whites could feel too harsh for a bathroom, especially if your lighting is high intensity. Your professional painting company can help you choose a white with subtle, warm undertones to create a more calming effect.
Gray
One of the best things about gray is its versatility. Different shades of gray can evoke completely different feelings. A deep charcoal gray is sophisticated and luxurious. Charcoal adds a touch of drama but is simple and modern. On the other hand, a soft dove gray is calming and serves as a neutral backdrop that will be an effective transition color across decora. Pair gray bathroom walls with clean white or other accent colors of your choice. If you like neutrals but want a hint of color, ask your painter about a gray with green, purple, or blue undertones.
Powder Blue
Light blues have been popular for bathroom walls for a long time. Powder blue bathroom paint is a great subtle way to introduce some color into a smaller space. As an accent color paired with white, powder blue and similar shades will further increase the brightness of any bathroom.
Light Green
Shades of light green—pistachio, mint, or seafoam green—evoke a sense of serenity in your bathroom by bringing a bit of nature indoors. A light jade or sage is a slightly more elevated and earthy look, while soft mints and seafoam greens inject a bit of cheer into a space's aesthetic. 
Navy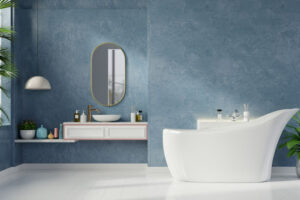 When working in smaller spaces and considering what colors make a bathroom look bigger, white and lighter neutral palettes should be at the top of your list. In a more spacious bathroom that doesn't already feel cramped or overwhelmed, however, experimenting with selective use of darker colors is a bold, modern choice. Navy blue can be balanced with white countertops, fixtures and trim for a clean, sophisticated look.
Alternatively, you could keep the walls neutral and go with a deep navy, trendy teal, or other blue for the cabinetry to establish a central visual anchor in your bathroom space's design.
Taupe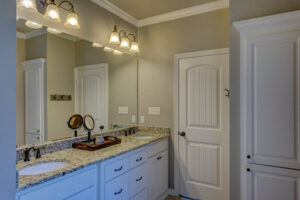 Taupe or light tan is a warm neutral color that can add serenity to your bathroom. Neutral colors are popular for bathroom walls because they go with virtually any design aesthetic and stand the test of time. Warm neutrals like taupe, light tan, and beige are cozier than blue-toned grays and work nicely with greenery and organic materials. Darker taupes with gray undertones are a bit more modern.
Pink
Whites, blues, greens, and neutral colors have been the most popular bathroom paint colors in recent years. But if you're a forward thinker unafraid to buck trends, shades of pink can be a fun, bright choice.
Go bold with a bright coral or berry hue, or soft and subtle with powder pink. A peachy tone or dusty rose can look more grown up and sophisticated while still evoking cheery and playful emotion. Muted, rosy hues are good shades for modern aesthetics or gold-toned accents. With pink walls, choose white or gray cabinetry and accessories to balance out the pop of color.
Professional Bathroom Painting
If  your bathroom paint needs an upgrade, but you aren't sure where to begin, an ONiT Painting color consultant can help you narrow down the perfect palettes and the right finishes for your space. ONiT Painting provides full-service support to see your project through from first ideas to final clean-up. Ready to transform the look and feel of your bathroom? Reach out to the ONiT Painting team today to get started!