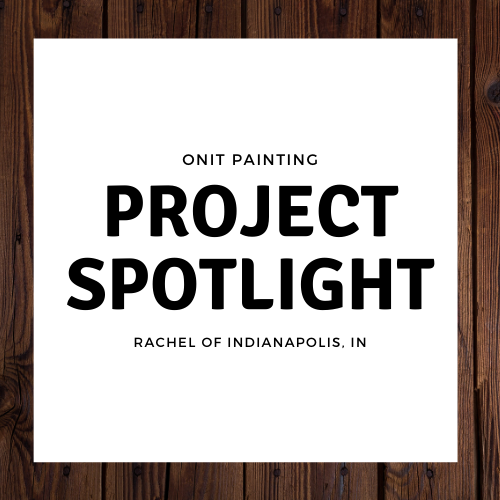 Rachel of Indianapolis, IN was looking to give her home a fresh, new look with some Interior Painting! Her walls were a yellowish and red color and had some minor drywall damage as well. She decided it was time to change it up and make her home better reflect her personal style!
Our Residential Sales Representative, Zach Whittaker, conducted her estimate. During this, he was able to assess any problems with the drywall that would need to be fixed prior to painting, and provide Rachel with an accurate scope of work and price for her interior painting project. He even included some optional items in the quote that Rachel could choose to add on, such as ceilings and a premium paint upgrade.
We like to do this at ONiT Painting because it gives homeowners a clear picture of how their money would be used, so they can make an informed decision on what to include in their interior painting project. We want to give them peace of mind in knowing that we don't just "slap" a price on anything. Their money is always going towards something that will benefit them and their home.
Rachel approved the interior painting quote and chose to include the ceilings! From there, we scheduled her project and were ready to go! However, her start date happened to fall on the same day as the worst snowstorm of the year. Our Production Manager, Reuben Moore, reached out to her as soon as we saw the weather forecast and let her know that we would have to delay the project a couple of days. At ONiT Painting, our first priority is always the customer, but we also have to keep the safety of our employees at the forefront, and Rachel was very understanding of this. As soon as the weather cleared, we got to work on her project!
Our Interior Painting Process:
Set Up and Protect

We moved and protected the furniture, covered and protected the flooring, and taped/masked as needed.

Surface Prep

Our goal is to get every surface clean, dry, and dull in preparation for painting. For Rachel's project, this meant repairing the drywall damage and priming the surfaces that were changing color.

Paint Application
Clean Up

We cleaned up daily and upon completion–leaving the home and property as we found it, except for the beautiful paint job.

Final Inspection

Our Project Manager, Melvin Portillo, completed a final inspection of the interior painting to ensure that the scope of work was completed and our quality standards were met.
In the end, Rachel's interior painting project turned out great! The new colors completely changed the feeling of the house, and reflect Rachel's style much better now. In addition, Rachel ended up receiving an extremely sentimental surprise during her project.
Check out what Rachel has to say about her experience:
My former fiancé had a ring that he wore as an engagement ring as well. He passed away in December of 2018, and 2 months prior to that, he lost his engagement ring. We tore the house apart looking for it, and never found it. The painters found it and left it sitting on the counter out in the open for me to find it. I was hysterical! 2 years later, that important, meaningful ring was found and their honesty in leaving it out for me was EVERYTHING to me.
When Melvin came to do the final walk through, I told him my story and he called Gustavo right away and asked him in great detail exactly where the ring was found so he could give me details of exactly where we lost it. That personal connection and his interest in connecting with me on that level means so much to me. Honestly, I would look NO FURTHER than ONiT painting and their wonderful and talented staff!! Thank you Melvin, Gustavo, Zach, and the whole crew for everything you did for me and for giving me my "fresh start".                         
 – Rachel on Google