Interior Paint Brands that You Should Consider for Your Home
When having any Painting Project completed in your home, using a high quality paint will make all the difference in your project's longevity, durability, and over all finish. Due to the vast multitude of paint brands, it can often be hard to sift through them all. Luckily for you, we've created a list of our top 3 favorite Interior Paint brands and what the benefits are of each one. This will help you to choose a brand that is best for you and your projects needs.
What to look for in Interior Paint
Having a comprehensive paint color selection is extremely important for brands in order to appeal to the most customers. However, when it comes to choosing a brand for your home, all that matters is that they have a color selection YOU are happy with. All of the brands listed have online or in-person resources where you can assess their selection and see if they have the colors you love.
VOCs (Volatile Organic Compounds) encompasses a large group of chemicals that are commonly found in Home Renovation products. These chemicals can have minor health risks such as eye, nose and throat irritation, dizziness and headaches. If frequently exposed to VOCs over many years it can cause cancer as well as liver, kidney, and central nervous system damage. Those severe side effects would not happen from one painting project in your home. However, it is still extremely smart to look for Interior paints labeled "Low VOC" or "No VOC".
Compatibility with the Surface You're Painting
A large factor in choosing the perfect paint brand for your project is exactly what you are having painted. You can't use the same paint for walls as you would for cabinets or trim. There are either oil or water based paints. When looking to paint walls it is best to go with water based as it has a more consistent and smooth finish. Oil based paints are great for things like trim, cabinets and high traffic areas. Oil based paints have a more resistant and durable finish that can withstand more abuse than a water based paint.
With these criteria in mind, let's get to the paint!
Sherwin-Williams Cashmere Interior Acrylic Latex
Sherwin-Williams is an ONiT Painting favorite for so many reasons. It's biggest selling points are it's ease and accessibility. There are a great deal of Sherwin-Williams stores all over Indianapolis, so it's extremely efficient to get an in-person view of their paint. Secondly, the Cashmere Interior Latex paint is extremely easy to apply. This makes contractors lives easier because they can move quicker and get the same smooth finish. It's also the perfect paint for DIYers because it is very forgiving of mistakes or lack of technique.
PPG Diamond Interior Paint and Primer
PPG is another highly rated paint brand. They have many different types of paint but Diamond is our pick for Interiors. The biggest positive to this paint is that it is extremely high coverage. We always recommend 2 coats to ensure a perfect finish, but with PPG Diamond you can get away with one coat and still have a beautiful end result.
Benjamin Moore Advance Interior Paint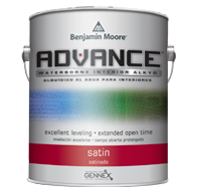 This Benjamin Moore paint is best used for trim, doors and cabinets. It has an extremely durable finish and despite it's strength it is very low VOC. It provides a set it and forget it solution to painting, and guarantees that your finish will withstand the wear and tear of every day life.