How to choose a gray paint color that will compliment your space
To most people, painting your walls gray seems like a very safe choice. It's a neutral color that should work well in any room or with any style, right? Unfortunately, choosing a gray paint color is not always this simple.
If you were to go to a store, find a gray swatch you liked, and paint a whole room that color, you might be surprised by what you actually see. Suddenly your walls are looking blue, purple, or brown, and it doesn't work at all with how you intended the space to look. 
Now you might be thinking, "Well that sounds stressful. I should probably just avoid gray all together then!" Yes, choosing the perfect gray for your home is more of a process than you thought. However, once you find the right gray color, you will be amazed at how beautifully it can transform your home. This article will take you through all the variables to consider when finding your perfect gray paint.
Paint colors are formulated by mixing primary colors into a base, which creates the unique color that eventually goes on your walls. Due to this mixing, each paint color you see has a mass tone and an undertone. The mass tone is simply the first color your eye recognizes. In this example, the mass tone would be gray. The undertone comes from the color that was added less, and this is the reason that no two gray paints look the same.
Gray Paint comes with two categories of undertones, warm and cool.
– Warm = Orange and Yellow
– Cool = Blue, green, and purple.
How do I find the undertone?
–Looking at a paint color alone, it can be very hard to see the undertone. However, when you compare them directly to other colors, the undertones will start to become more clear.
– Compare 3-4 paint swatches under good lighting to see the undertones of each paint color.
– If you're still having trouble detecting the undertone, looking up the color name online or asking a store associate will be the easiest way to find out what the undertone is.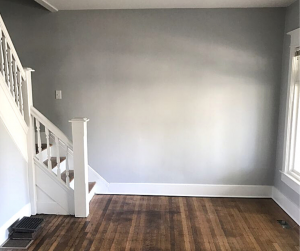 Now that we know how to find the undertone of a gray paint color, you need to consider how the lighting in a certain room will effect the color of the paint.
North Facing Windows = Cool light for the majority of the day.
–This cool-toned light will really bring out the blues and purples in your gray paint, so steer clear of that unless you like the look of blueish-gray walls. Typically, contrasting this cool light with a warm gray paint color will look the best.
South Facing Windows = Consistently bright light for the majority of the day
South facing windows make picking a gray color very easy because the light pairs well with both warm and cool undertones.
East and West Facing Windows = Both warm and cool light, depending on time of day
Find a gray without a strong undertone. A neutral gray, such as  will look more consistent as the color of the light changes.
PRO TIP: Our Color Consultant, Emilie Elliot, suggests, "If you have already painted a room gray and are not happy with the way it looks, consider switching out your light bulbs. LED light bulbs come in varying colors such as warm white, cool white, and daylight. This will help either bring out or hide the undertones you wish to see in your gray paint"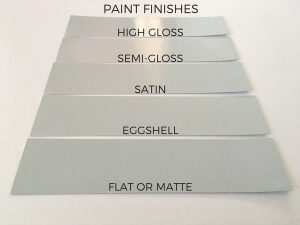 Just as light can effect the way a gray paint color looks on your walls, sheen will also distort the way we see the color
– Gloss/Semi Gloss = Reflect Light. These can make the color appear darker than it actually is
– Flat = Absorbs Light. This can make the color appear lighter or chalky
– Matte/Eggshell = Balance of both. The paint will appear very true to the original color.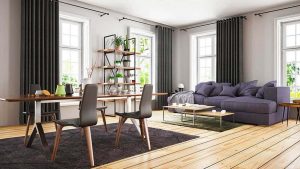 The last thing to consider is the function or styling of a room. Obviously, it is ultimately up to the homeowners preference, but here are a few common rules that interior designers, stagers, and color consultants tend to abide by
-Bathrooms usually look best with a cool toned Gray like SW7071 Gray Screen. This gives the room a clean look, transforming it into your own at home spa.
-Consider a warm toned gray or "greige" in the comfortable rooms of your house, like the living room or bedrooms. An example of this would be SW7029 Agreeable Gray
-Take wood furnishings into consideration when choosing a gray paint color, such as flooring, trim, or cabinets. What undertone is the wood, and would you like to compliment or contrast it?
-Since gray is a neutral, keep the styling interesting by incorporating different textured pieces of furniture and décor.
If you think you've found the perfect gray, it is always best to test it in your home before committing to painting an entire room. Get a sample of the color you like, or multiple colors, and paint swatches onto various walls in the room. Try choosing one wall where direct sunlight hits, and another shady wall. This way you'll guarantee to enjoy your color in different lighting situations.
Gray is one of the most popular paint colors for a reason. It provides a soothing neutral background to your space, and gives you a lot of freedom with staging and styling. Don't let the multitude of Gray paint color options overwhelm you. If you take the above items into consideration, you're guaranteed to find a gray color that works perfectly in your home!
Luckily, you don't need to have your color selected to schedule a free in-person or virtual estimate with ONiT Painting. We can help you find the perfect color and ensure your project turns out great!