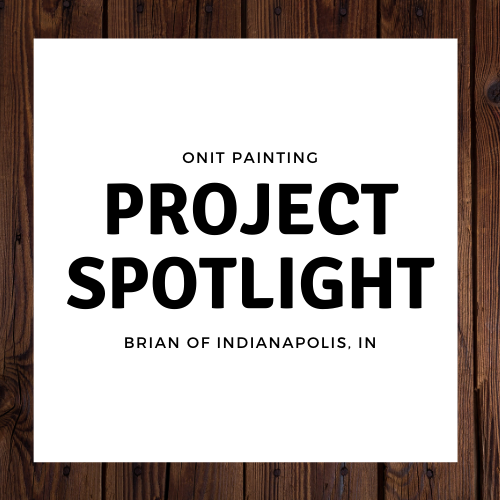 Preparing an old home to sell with Interior Paint
Most residential projects that ONiT Painting works on are for homeowners wanting to change or update their home for themselves. However, something we also see quite a bit of is customers getting houses ready to sell. Selling your home can be quite a difficult process, and it is often necessary to do updates in order to get a fair price. 
This was the case with a recent ONiT customer, Brian. He was in the process of selling his mother's home, but he knew it needed to be modernized first. There are many ways to make an old home look more contemporary. A lot of which involve extensive renovations. However, you would be very surprised at how big of an impact new interior paint can make. 
Brian met with our sales representative, Drew Simone, to go over the work he wanted completed. There were quite a few walls with old, peeling wallpaper, dents, nail holes, and other various damage, which is to be expected in an older home. In addition to painting, ONiT offers drywall repair and wallpaper removal. Drew was able to provide Brian with a detailed estimate of the cost of repairs and painting the entire interior of the home. Brian was very happy with his estimate, and chose to move forward with ONiT Painting for his project. 
Taking on an older home is always a challenge, but one that ONiT Painting was happy to tackle. One thing to always keep in mind is that older homes may have some surprises. For example, when removing some wallpaper from this home, the ONiT crew encountered some mold that they weren't aware of at the start of the project. This is extremely common if there is old wallpaper present in a home, and is not a sign of further issues. The glue that used to be used to adhere wallpaper often lends itself to mold growth.
Luckily, there was no new or active growth on this project. So it was relatively simple to get rid of. Once the walls were properly cleaned, and all the drywall repairs were complete, we primed the entire house for painting. In this home, we painted the walls, baseboards, and kitchen cabinets. To ensure a long lasting and smooth look, we applied two finish coats of  Sherwin-Williams ProMar 200 Zero VOC Interior Latex.
It is amazing how much of a difference interior paint can make on a home. You don't always have to do dramatic changes to the layout or style of the home. Simply changing the color of the walls can make a home look brand new. Sometimes, it isn't even necessary to change the color. Our paint is very long lasting, however, not forever lasting. Like anything in your home, after enough time the walls will start to show the natural wear and tear of everyday life. If your home is looking dingy or out of date, and you can't quite pinpoint why, you might just need some new paint on the walls! This is also a wonderful method for refreshing outdated kitchen cabinets. Painting them a new and trendy color will have people thinking they were just recently installed. 
Brian's project went wonderfully, and the ONiT Painting team was thrilled to help him through this difficult process of selling his mother's home. Here is what Brian had to say about his experience:
"I highly recommend ONIT Painting. They did an amazing job and were very thorough and detail-oriented. Robert and Patrick of the painting crew were very professional and always friendly. They were well organized and planned out the work of each day. They used a wide variety of equipment and were always prepared for any situation they came across. Drew, the consultant I initially met with and Reuben, the production manager were very communicative and available to answer any questions I had and the painters were also helpful and would ask every day if I had any questions or concerns. I never had any worries and I am very happy with the quality of their painting. My compliments to everyone at ONIT Painting for the positive experience!"
If you are selling a home, or simply need to give it a new life, consider interior painting! You can schedule a free in-person or virtual estimate today!