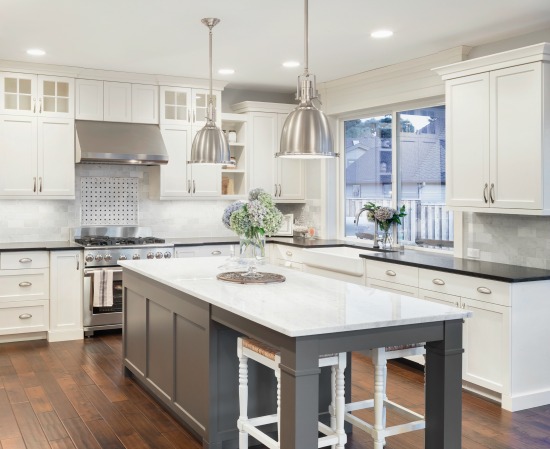 If you find yourself looking at your kitchen space with more disdain than you do the pile of dishes in the sink after dinner time, then it may be time to consider changing up the look and color of your cabinets! It may seem daunting picking the right color, as there are seemingly endless possibilities to choose from, including about 50 shades of white (how?!).  I am here to give you the top kitchen cabinets color trends so that you don't have to figure it out on your own! Now, how can we get out of doing that pile of dishes…hmm, I may not have an answer to that one just yet😊
1.Play it Neutral
By far the most popular pick out of the bunch! It's almost a guarantee that a neutral cabinet shade will go with just about any kitchen wall color or décor items you have already.  Anywhere from taupe, white, or a cool gray will look modern and fresh. A few of our favorites are by Sherwin Williams— White Duck (SW7010), Alabaster (SW7008) and by Benjamin Moore– Rockport Gray (HC-105) or Berkshire Beige (AC-2).
2.Deep Jewel Tones
Do you like to live a little on the wild side? Then consider a deep, jewel toned blue, teal or maybe emerald green. For some inspiration, look at Sherwin Williams Alexandrite (SW0060), Oceanside (SW6496) and In the Navy (SW9178).
3.One with Nature
If you find yourself outdoors most of the time or just admire the simplistic beauty of nature, then consider a balanced grey green like Sherwin Williams Porpoise (SW7047) or Behr's Kindling (N200-6). These colors will ensure a very cozy kitchen!
4.Two Tone
Can't make up your mind still? Why not use two colors! This approach works especially well if you have a kitchen island to accent. A popular color combination is a creamy white color on the top cabinets and a dark grey on the lower cabinets or island. If neutral isn't your "thing" then try adding a pop of color like Sherwin Williams Blackberry (SW7577) to your kitchen island!
5.Finish it Off
Let's face it, you are going to get some grease, splatter, spaghetti sauce etc. on your newly painted cabinets.  Make sure to use a semigloss or satin paint finish so that the surface is wipeable.
Ready to get an estimate for painting your kitchen cabinets? Give us a call at 317-824-9322 or schedule online!