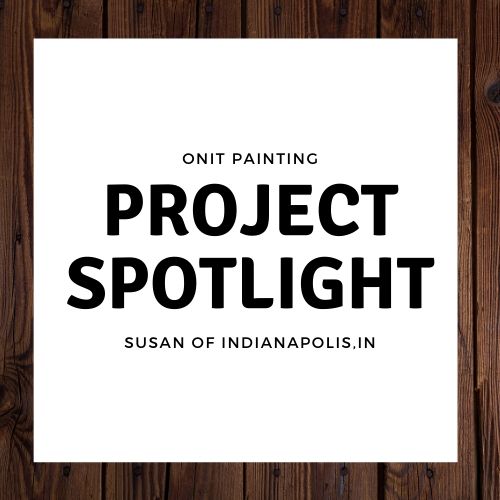 Interior Painting Project
Susan was referred to ONIT Painting by a close family member of hers that had a great experience with their previous painting project. She was in a bit of a time crunch and knew that we would be able to provide her a quick and thorough estimate. She needed interior painting completed for her investment property in Indianapolis so that she could place the home on the market at just the right time.
When our Residential Estimator met Susan at the property, she let him know that it was a total remodel and all the interior painting needed redone. Our estimator built a comprehensive interior painting quote to address all of her concerns and also answer any questions that she had. 
Some Obstacles
There were some obstacles that we encountered before even setting a paint brush to the wall. One was that Susan was on a very tight timeline for her interior house painting. Two was that the previous interior painting work was done incorrectly, which required more preparation on our part in order to fix. Other than those two things, the investment property was ready to go on the market besides getting the interior painting completed.
ONiT Painting was able to start Susan's interior house painting project within a few days of  her approving the quote. She was so thrilled that we were prompt with communication and flexible with our schedule in order to prioritize her interior house painting.
Completing the Job
Our experienced interior painting crew pole sanded drywall, completed minor drywall repairs, painted all walls, ceilings, baseboards, casings, quarter round, and doors. Per our suggestion, we used two coats of Sherwin-Williams Cashmere Flat on the walls, Promar 200 Zero VOC Flat on ceilings, and ProClassic Semi-Gloss on the Trim and Doors in order to achieve the best finish and long lasting results that Susan wanted. We also made sure that our interior painters covered and protected all of the new floors, counter-tops, light fixtures and appliances well before we started on the interior painting. 
Our painters knocked Susan's project out in the time frame that she needed and made sure her investment property looked perfect for the next tenants. Susan's expectations were completely exceeded and she was so pleased with the end result that she has called ONiT Painting for multiple other painting projects and she has even referred us onto her friends and family.
Referral Program
Speaking of referrals, have you heard of ONiT Painting's $100 Referral Program? We created the referral program in order to award YOU for going out of your way to recommend our painting services to your friends and family, just like Susan did! It is very simple; you complete your interior painting or exterior painting project with ONiT. You are so impressed by the quality of work and great pricing that you recommend our painting services to your friend or family member. Your friend or family member receives a free estimate from us, and ends up scheduling their painting project. At the end of their project, we mail each of you $50 to use in any way that you'd like!
Testimonial
Ok, back to our spotlight story! Susan was so pleased with her investment property project, and the fact that she was able to get it listed on the market within her time frame, that she left us a great review:
"Although I was on a tight schedule, ONiT was able to complete my project without hesitation. Everything from the communication with the team, to the interior painting prep work, and the final product was great. Thanks ONiT Painting!"
If you have a interior house painting that you would like a free estimate on, please give us a call at 317-824-9322 or book a free estimate here!