Bohemian, or Boho, style is something you can truly tailor to fit your personality. It is loud, interesting, and inviting all at the same time. The main goal for a successful boho design is to look as if you've traveled the world and filled your homes with objects found on your journey. It is an exciting combination of unlike items that come together to make one cohesive design. This style is the perfect fit for someone who is creative and unique, like artists, travelers, musicians, or writers. Though the bohemian style is very individual, there are set standards that classify a design as "boho".
Base Paint Colors for Your Bohemian Home
Since the bohemian style is often very busy, having a light and neutral base color like cream can be extremely effective in making the other aspects of your design pop, without being overwhelming. Try to consider a cream color with yellow or red undertones, rather than a stark white or blueish off-white. This will complement the inherent warmth of the Bohemian style. Using a bright, cool-toned white would look out of place and clash with the rest of your design. Think of cream if you want your walls to be a blank canvas for your art and decor.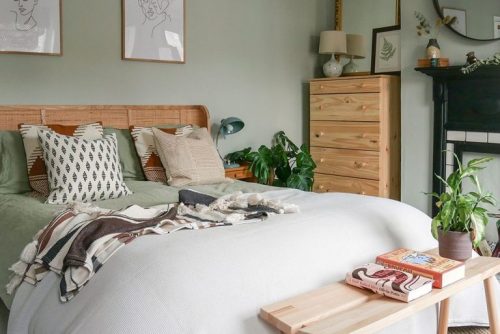 Sage is a very light, almost grayish, green color. Not only is it perfect for the Bohemian style, but it's also predicted to be one of 2021's most popular colors. Sage is the right choice for you if you're looking for a neutral tone that won't clash with your decor, but you still want the walls to have some color to them. Although it is a cooler-toned color, it compliments warm browns extremely well.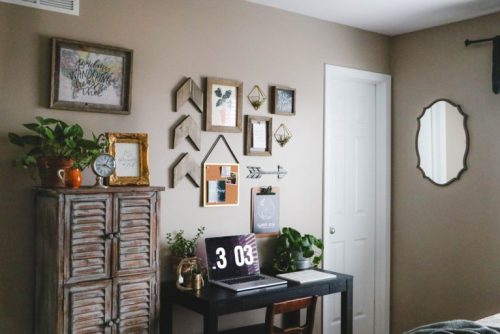 You may be thinking, what in the heck is greige? Well, greige is a general term describing colors that combine gray and beige. This is the ideal choice for you if you like the color gray, but want to warm it up a little bit. Greige is extremely neutral and complimentary, much like cream, but the added depth of color provides a little more visual interest.
Accent Paint Colors for Your Bohemian Home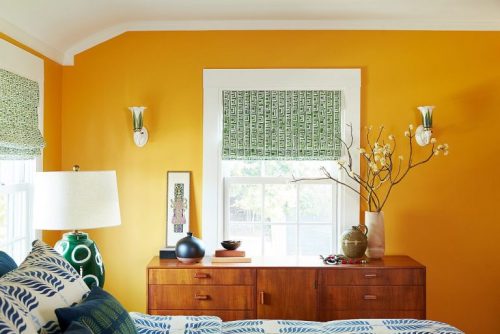 This orangish-yellow is an extremely common color in bohemian designs. Most often, it's used as an accent color in decor or furniture. However, with the right design, you can totally get away with painting a whole room yellow. If you're going to go bold with your wall color, we suggest keeping the colors of your decor relatively simple. Add in one or two more colors, and stick with neutrals for the rest. You can still get that classic bohemian mix-matched style by playing with patterns and materials.
Deep, hunter green colors are a beautiful accent for boho spaces. This can be used as an accent wall or, my personal favorite, a kitchen cabinet color. You can either paint all of the cabinets green or follow the trending look of dual-toned cabinets. To achieve this style, keep the darkest color on the bottom with a light neutral color on the top. This grounds the kitchen while still providing a light and airy feel. Avoid painting a whole room this color if you are one who loves houseplants. Their details can easily get swept up in this sea of dark green. However, using dark green as a bedroom wall color would create a very cozy sanctuary.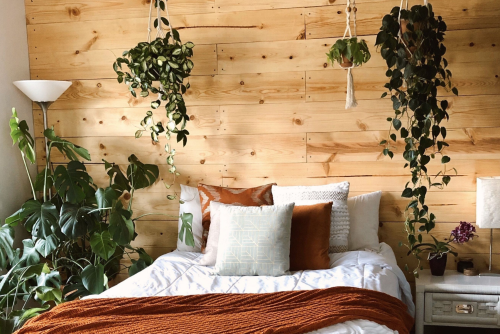 While we know this isn't a color, but you can't talk about boho design without talking about textured wall coverings. This can be wood paneling, beadboard, wallpaper, stucco, or a board and batten wall. Creating the ideal bohemian space is all about mixing textures, so why not continue that onto your walls? It truly elevates the look while staying true to the classic boho style.